Editing digital copies and images is easy enough when you're doing it yourself, but what happens when you have a whole team reviewing them and giving feedback? Foxit's Annotate PDF tools were made for exactly this purpose. They enable you to easily share the details when you or your team members are commenting on documents, images, and web pages.
First, let's tackle what exactly an annotation is. People also refer to annotations as comments, notes, markups, or any system for leaving redesign or editing feedback on a document. So that's it in a nutshell: annotations = comments.
There's a lot of software out there that enables you to add comments to documents, including document creation tools. Yet here's why PDF is the best medium for annotation.
PDF looks the same on different software
The Portable Document Format has been an ISO standard for over a decade. Because of its standardization, the PDF files you're working on with your colleagues will look and feel the same on a variety of PDF readers and editors. So you don't have to worry about layouts changing, fonts being unreadable, or other problems that can happen with non-standard software.
Meanwhile, PDF continues to evolve, keeping pace with the evolution of digital design and editing. Whether you're annotating a PDF or reviewing someone else's annotations, the feedback on the original content is easy to recognize.
With Foxit PDF Reader or Foxit PDF Editor, you'll have a powerful suite of annotation tools at your fingertips.
Annotation tools make it easier to give and receive feedback in PDF
Foxit PDF Editor provides you with a helpful assortment of tools for adding annotations to your documents. This includes adding a text message, lines, or shapes; editing, moving, replying to, or deleting your comments; and viewing all comments as a separate, transferrable list which can be imported, exported, or sent via email as a Form Data Format (FDF) attachment.

Not only does that make it easier for your team to provide feedback in PDF, it's easier for you, the author, to understand the feedback provided to you. This is true even if your document wasn't originally a PDF.
Text Markup tools
The Text Markup tools allow you to highlight significant passages for easy reference; underline text for emphasis or attention; strikeout text to be deleted; and indicate where text should be deleted and inserted. None of these tools change the actual content in the PDF. They simply add a layer of information about changes to be made. 
Pin tools
The Pin tools enable you to add comments or attach a file to a PDF. A note comment leaves a note icon on the page where you place it, indicating a pop-up note for your text message. The beauty of pop-ups is that they can reduce the clutter of an annotated page by appearing only when you double-click the note icon to show it.
Typewriter tools
The Typewriter tools offer another option for creating annotations. This set includes Typewriter, Callout, and Textbox, which can be used to add comments anywhere on a PDF.
Callout creates a text box and an arrow, which you can use to single out a particular area of a document.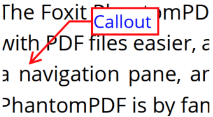 A textbox is a rectangle of any size, with an optional border that separates the text box from the rest of the interface, allowing you to input text information that readers will always see. Unlike pop-up notes, text boxes usually remain visible on the document page.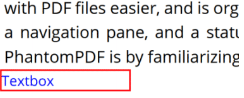 Drawing tools
The Drawing tools commands are for marking up a document with several basic shapes as a visual way of organizing your markup information, whether you're annotating text or images.
Any team that collaborates on digital materials and works with multiple iterations of documents and images will benefit from using Annotate PDF. You can organize your thinking, streamline your process, and reduce (or even eliminate) the reams of printouts floating around your workspace.
For more details, check out our tutorial video here.