PDF Editor
Create, edit, and sign anywhere.
Edit your PDFs
with powerful yet easy workflows across desktop, mobile, and web—whether you're at the office, home, or on the go.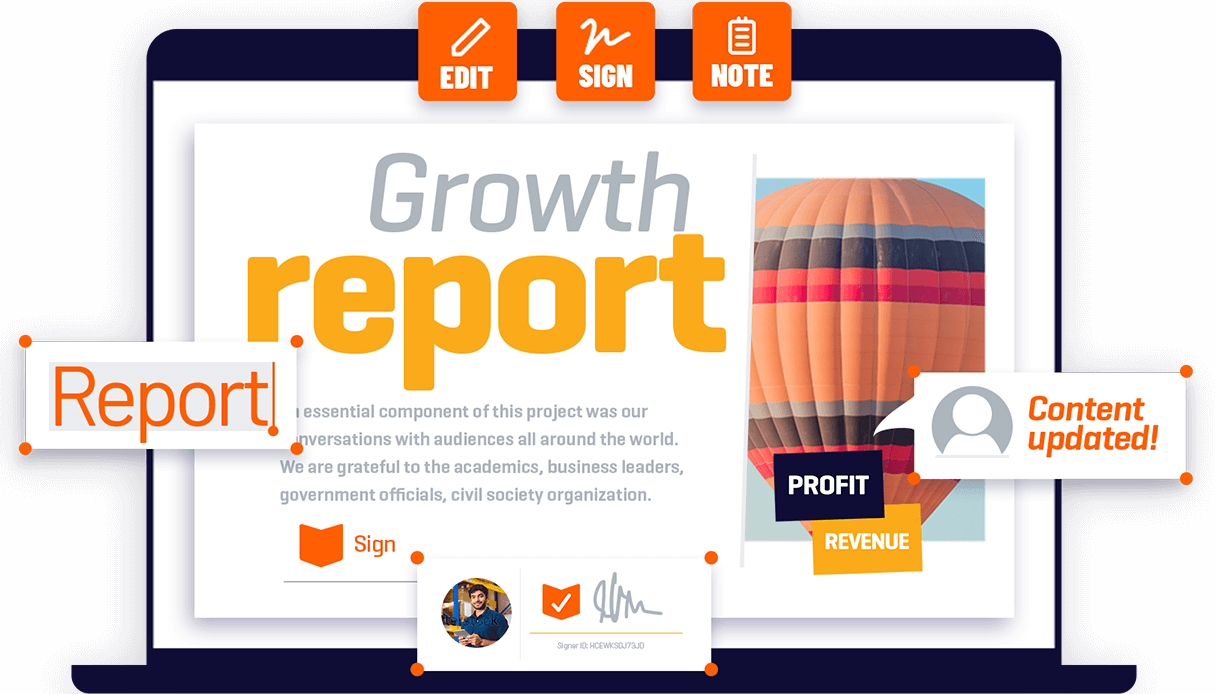 Estimate your savings when
switching from Adobe to Foxit
** incl. 20% Maintainance
Your Savings
by Switching to Foxit
USA Pricing. USD.
Why Foxit PDF Editor is the leading alternative to Adobe Acrobat
Top Ranked PDF Editing Solution on G2
G2 is the world's leading business software review platform, leveraging more than 100,000 user reviews to drive better purchasing decisions.
Easy to Purchase
Everything you need in Adobe Acrobat at a fraction of the cost. Choose between One-Time Perpetual Licenses, Yearly Subscription, and Monthly Subscription. By choosing Foxit PDF Editor, you get a cost-effective, full-featured PDF editing solution that is the leading PDF technology alternative to Adobe Acrobat.
Trouble Free Migration and Use
Foxit PDF Editor makes migrating from Adobe a cinch. Foxit helps you with enterprise-wide deployment and customization tools. Foxit PDF Editor offers a clear, user-friendly Ribbon-style toolbar—similar to the Microsoft Office user interface. This enables an intuitive user experience and quick adoption with a short learning-curve. It integrates seamlessly into your systems.
Great Support
You decide how you want to contact Foxit Support: Choose between phone, chat, email, or online tickets. The built-in chat support function in Foxit PDF Editor enables you to directly address your issues without having to leave the application.
Trusted

worldwide
'Very easy and powerful.'
Teran B-IT support specialist
'Using Adobe? It's time you switched.'
Paul S–Senior technical writer
'Very intuitive and easy to follow.'
Conor R-Investment banking analyst
'Great alternative to Adobe DC Pro.'
Kevin R-Venture finance manager
Join over half a billion users that have chosen award–winning Foxit products to achieve their paperless office strategy. Find out why they rely on Foxit as their partner when it comes to their PDF needs and increased productivity.
Do More with Documents.
Foxit PDF Editor
Get
more

What's Foxit

PDF Editor?

Video

View the product demo video

You have a choice

in PDF.

Video

Discover why Foxit provides the clear alternative to Adobe Acrobat
Foxit PDF Editor
PDFs are a regular part of business, but they're often difficult to edit and modify without the right tools. With Foxit's PDF Editor, you can easily create and modify your PDFS wherever you are on any device. Whether you're at home or on the move, Foxit makes working with PDFs simple and intuitive.