Did you ever have a scan of a printed page that you needed to edit? You probably had someone read it to you word-by-word as you typed. Or if no one was around, you read a few words and typed a few words, over and over, until your neck was sore or you were done.
OCR (optical character recognition) is when you let the computer do that for you. It's much faster, and once you do it, you can search content, make edits, etc.
If you have PhantomPDF 7.3 or later and want to use OCR, you need to install the Foxit OCR Add-ons.
Why is OCR an add-on?
Many people don't use OCR, the download is fairly large, and most people are in a rush to get going with PhantomPDF. So to reduce the size of Foxit PhantomPDF, we make the OCR feature a separate—but free—download.
What do I need?
For the OCR feature in PhantomPDF 7.3 or later, you need two modules:
OCR Public, which is the engine
OCR Language, which drives OCR for various languages
You must have the OCR Public file installed before you can install a language pack.
Download the Foxit OCR Add-ons. Then follow the steps as shown in the image below:
Select the red "Foxit PhantomPDF" tab, then scroll down to the bottom of the page.
Select the OCR Public Add-on download first, then install it.
Select the OCR Language Add-on download next, then install it.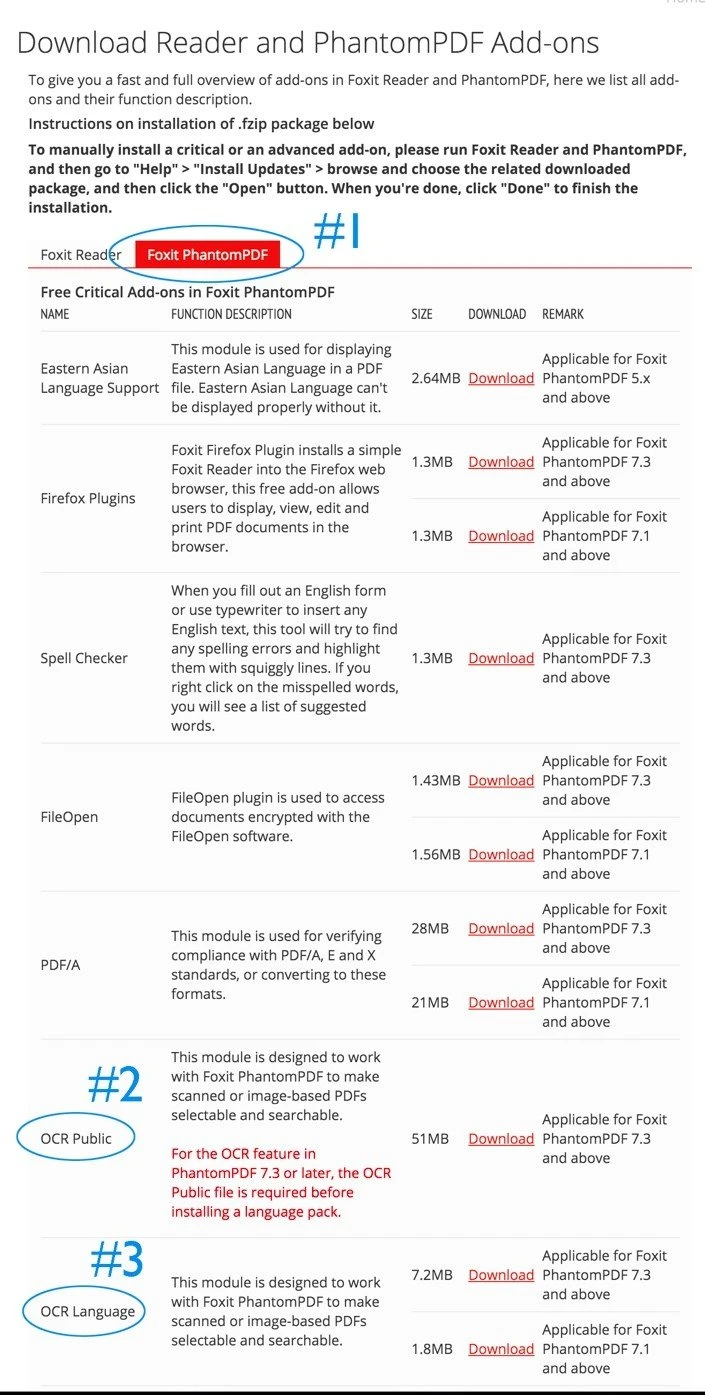 That's it. Now PhantomPDF is ready to do OCR on your PDFs!
You can perform OCR on the current file you have open or on multiple files. Choose a single language or multiple languages for your output. Even use the Quick OCR tool under the HOME/CONVERT tab to use the OCR settings you used previously, with just one click. For details, check "Chapter 4 – Create" in the Foxit PhantomPDF User Guide.