By Scott Nguyen, Integrated Sales and Support
A Foxit account gives you access to trial downloads, your order history, and product promotion. As a member, you can also save items to your favorite list and manage your activity and data in the Foxit online store.
It's easy and fast to create and activate your Foxit account as well as find your orders. The following instructions are for your reference.
1. Create Your Foxit Account
Just input your email address and a password in Login > Create an Account in the top-right corner of our website. Easy-peasy. No charge.
Tip:
If you create an account after purchase, please make sure you create an account using the same email address as the one you put in your order, so that you can find your order history in the account.
2. Activate Your Foxit Account
You may not be able to access some features without activating your account.
To activate your account, log in and choose Account Details. Then click on the Not activated button on your personal details page and the verification link will be sent to your mailbox. Click the verification link and your account will be activated, then you'll see the green Activated button on your account details page.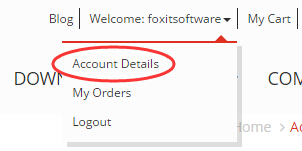 3. Search My Orders
After successful activation, you can go to My Orders and set a date range to find your orders.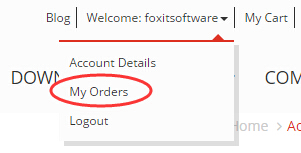 Note:
To tie your future new orders to your accounts, please make sure you have logged into the account when you order online.