If you prefer to have things customized your way, you're not alone. That's why there are so many options to personalize everything from clothing to cellphone covers to software—and that includes the Foxit PhantomPDF PDF Editor.
So, whether your eyesight dictates you choose white text on a darker background that's easier to see or you simply prefer another color scheme, it's easy to do in PhantomPDF.
Foxit PhantomPDF offer you five different kinds of skin: Classic, Black, Blue, Orange and Purple that allow you to change the look of the software.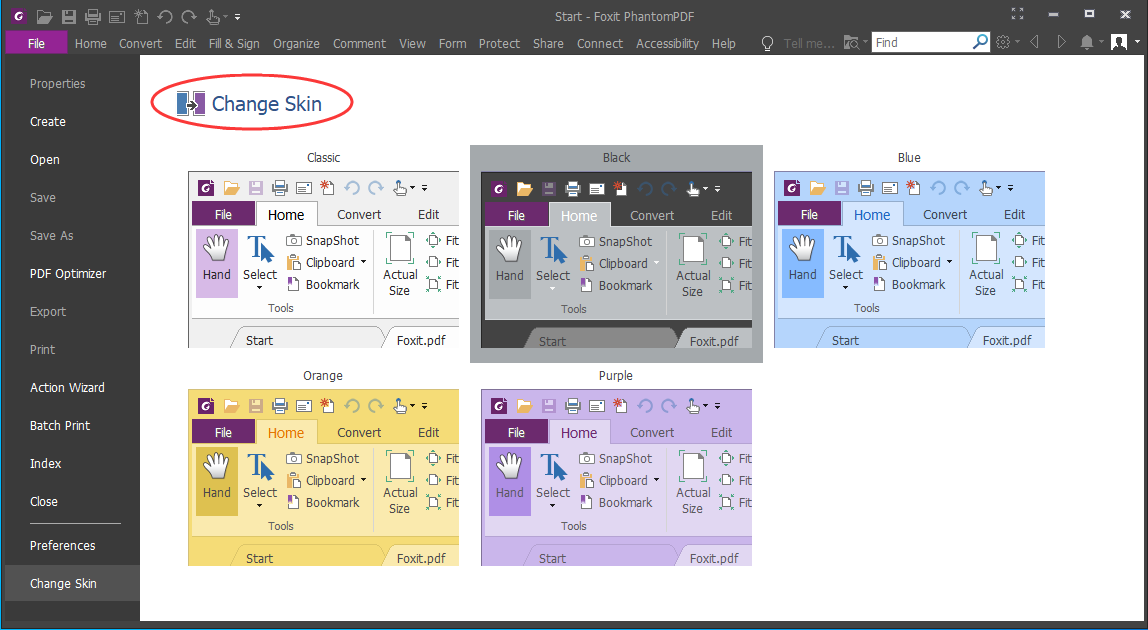 To change the skin of the workspace, all you need do is the following:
Go to File > Change Skin.
Check the skin you like and click OK.
More ways to make PhantomPDF even easier on your eyes
If you'd like to further customize the way PhantomPDF appears, you can change implement other changes to make the interface work better for your particular vision. Simply do one the following:
Replace document colors: Check to activate other options to change the document colors.
Use Windows color scheme: Sets document colors according to the color scheme of your Windows preferences.
Use High-Contrast colors: Choose the high-contrast color combination for page background and document text to improve readability.
Custom color: Changes the color of Page Background and Document Text.
Only change the color of black text: Change only the black text and leave the colored text unchanged when you replace document colors.
Change the color of text or black line art: Change the color of text or black line art when you replace document colors.
That's all there is to it!