By Carlos Gonzalez, General Manager – Foxit's Data Collection Business Unit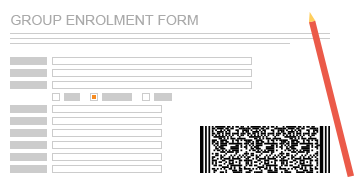 Using 2D barcodes in Paper Forms Processing
Today, many provide us with on-screen-fillable forms that you have to print after they're filled out to enable data capture. The truth is, that's only a partial solution. There's a way to greatly improve forms processing systems at their core—and the answer is as close as your local supermarket.
Check your average product package in your local grocery store and you'll see it's actually got two sets of data. There's the text and images on the box for you to read. And then there's the barcode for the store's machines to read.
You can use the same technique with your forms by applying 2D barcodes. 
What are 2D barcodes?
While store-bought products like cereal and lunchmeat packages have 1D barcodes that hold a small amount of data, the 2D barcodes you apply to your forms hold a lot of data.
2D barcodes are symbols created by patterns. These patterns are usually made up of tiny square graphics, and can handle up to 2,500 characters depending on the standard used. PDF417, DataMatrix, QRCode and MaxiCode are some of the most popular 2D barcode standards. They've been used for more than a decade now in a variety of vertical markets (retail, health, military, government, taxes, labs, banking, insurance, etc.).
Embedding a 2D barcode in a paper form opens a world of possibilities.
With this approach, your paper form gains a secondary, machine readable data-set that can be captured with 100% accuracy by machines geared to do exactly that. It enables your data capture to be performed by machines doing what they do best. That means you can dedicate people to more challenging tasks than fixing read errors.
2D barcodes also literally eliminate errors in paper forms data collection processes. You can forget about errors or false positives. 2D barcodes embed Error Correction capacity, so you get 100% error free performance in the data collection process. Not a bad start.
Are 2D barcodes infallible? Not if print quality of your forms is extremely poor. While that's much less of a problem due to the high quality print results of today's inkjet printers, it can still happen. In this situation, other data capture techniques such as OCR will fail, too, and you'll have to rely on human readable data in the text to process your forms. But again, a less common issue than ever before.
Interested in exploring a 2D barcode solution? We can help.
Foxit desktop products (Foxit PDF Reader, Foxit PDF Editor) are fully compatible with the use of 2D barcodes in PDF fillable forms thanks to our Ultraforms® technology. If you'd like to know more, we're happy to discuss how a 2D barcode solution could work for you.