ConnectedPDF technology in PhantomPDF gives you a lot of benefits when it comes to taking more control over who does what with your documents—even after you've already emailed them or published them online.
Let's look at how to use ConnectedPDF to track different versions of a PDF document, and notify other users when a new version is available. Creating versions of a ConnectedPDF document allows you to track multiple variations of a PDF document, see how different branches diverge from each other, and easily retrieve old versions when you need them. Most notably, you can also notify all users whenever you create a new version of that file.
To create a new version, click on the Register New Version button.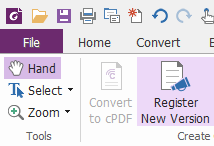 After you've updated and saved the document, you'll see a screen like this one.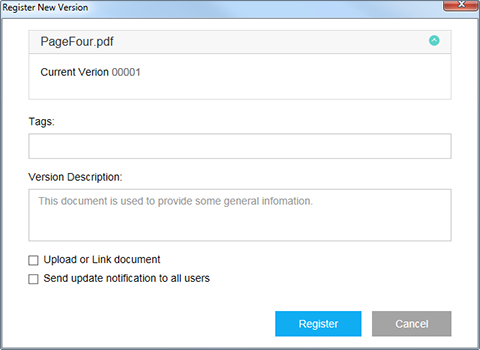 First, enter in tags a new version description to describe this new version. Then if you own this document and want to notify users of this new version, check the Send update notification to all users box.
Now, you can choose whether you just register the document, which doesn't upload the file to Foxit servers. So if anyone wants to access it, they'll need to contact you or someone else with this version.
Or you can check the Upload or Link document box to provide direct access to the file. In the drop-down list you also have two choices. You can upload the file to our servers directly, which is the easiest method to provide user access to this version.
Alternatively, if you use another file storage service such as Dropbox, you can add in a link to that service you obtain manually. And we will then save that link in case anyone else needs this version of the file.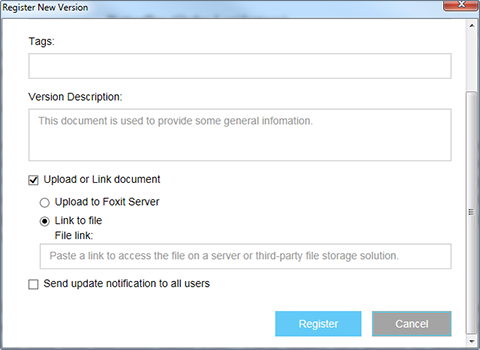 If you're the current owner of the file, you'll see the Send update notification to all users box when you register a new version.
Check this box, and whenever another user opens an older version of this file, they'll see a notification that a newer version exists.
If you uploaded the file, they'll get a direct link to download the new version themselves. If you didn't upload it, they'll just get a message to contact you. Either way, you can be sure that all of your users know about your new version. When a user opens up an old version of the file, they'll see a window similar to this one with your message. They can copy the link to download the file by clicking on a button and pasting it on a browser.
To view all versions of a file, click on Version History in the upper right.

You'll then see a version tree that will show all versions of the file, showing how versions descended from one another.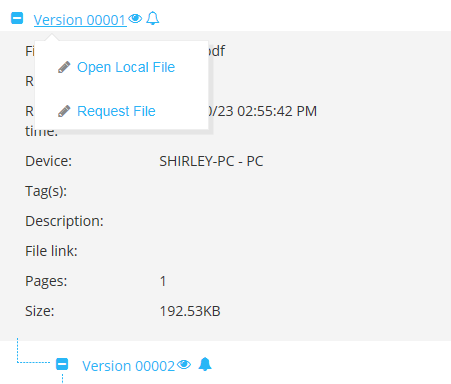 Click on the eye icon to the right of any version to see more information about it, including the tags, version and more. And use the menu to open a file if you have it, download it from the internet if it's available, or request it from any other user that has this version available.