It's no secret that US schools are spending big money to make technology more available to students. For many schools, a portion of this money is going towards transitioning their instructional materials from regular textbooks to digital format.
PDF software is at the center of this push for modernizing and digitizing educational materials. PDF software enables a school or school district to convert existing printed materials and create new resources in a digital format.
Not only does PDF software digitize material that was once delivered via paper, it does so in a format that's not reliant upon specific operating systems or software. You can read the document in any environment, on any device, browser or operating system.
But the real benefits to using PDF software in education for teachers, schools and students alike come down to what educational materials are meant to do—namely, expand minds, encourage thinking and reward ideas. Here's how PDF software and related technologies help make that possible within the classroom and without.
Note taking via comments
Many instructors use PDF software to enhance their lectures and make reading assignments more interesting and accessible. Likewise, scholarly journals allow students and faculty to download information in PDF format to broaden their reach. You can also download full text Google Books as PDFs, enabling them to be notated with digital comments.
Yet educators say that they still see many students print slideshows or documents their instructor has posted online, and print journal articles so that they can make notes using an old-fashioned pen, pencil or highlighter.
A PDF solution for students makes more sense. By using Foxit PDF Reader, students can add notes, draw lines, boxes and shapes, add their own bookmarks, even use the built-in Typewriter tool to add comments into PDF documents. All of which makes note taking streamlined and searchable, and saves printing and paper.
Offering accessibility across the entire educational institution
When students with vision impairment are in the classroom, the challenge is to provide the same instructional materials that originate on paper in a digital format enhanced for their needs.
Some institutions have adopted Foxit PDF Editor to convert documents to PDF and set structure tags, which enables screen reader software to follow the correct order of content. They then use the PDF software to run a full accessibility check before distributing the document.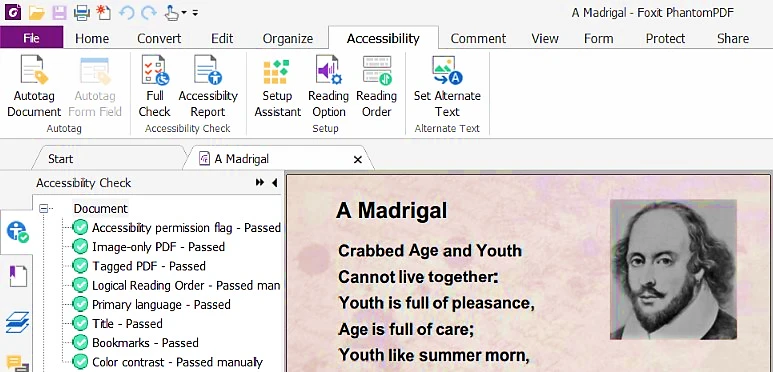 Getting insight into how course materials work for students
Having insight into how students use course materials not only enables instructors to evaluate how effective assignments are, it also lets them see which students are on track and which may be falling behind in their work.
When instructors use ConnectedPDF, which is a freely available technology within Foxit PDF Editor, they make documents intelligent. These intelligent PDF documents enable them to see who opens files and what they do with them, including viewing, printing, and leaving comments.

All in all, PDF software increases efficiency in the classroom, meeting the needs of instructors, students and school administration in ways print and other digital software lack.