You've probably faced a situation where you had to send a massive PDF file via email. When you sent it, you found that your 50-page document with images took several minutes to upload—and that's assuming the size was within the mail limit. The long transfer time lead to wasted downtime. You needed a better alternative.
PhantomPDF high compression puts an end to long uploads
The good news is, PhantomPDF has now adopted Foxit's user-friendly high-compression technology built right in.
This means that with a few clicks, you can compress a 50-page PDF file into approximately 3 MB. It only takes seconds – even if the file contains multiple colored images and graphs.
Uploading and sending the lengthy PDF now takes no more than the time it takes to upload a single-page Word document.
How to use PhantomPDF high compression
If you have an existing scanned PDF file, just open it in PhantomPDF and go to: File -> Optimize Scanned PDF.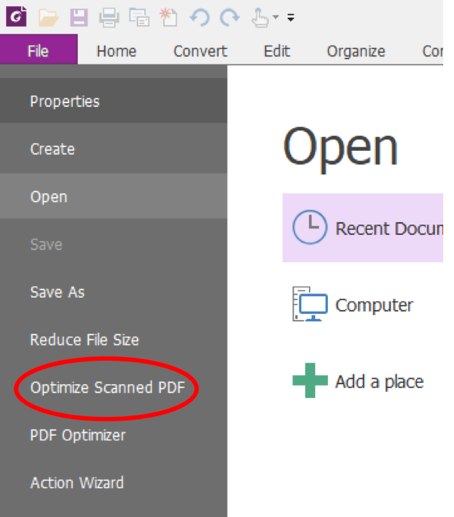 For file formats like JPEG or TIFF, convert them to PDF first.
You can also make further modifications with the advanced options in PhantomPDF, though for 95% of compressions, the DEFAULTS setting suffices.
Click OK, and the compression is underway.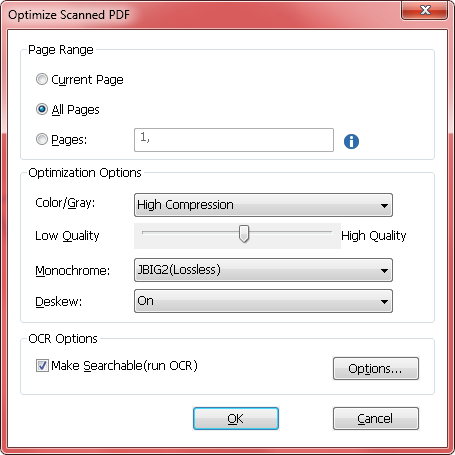 Foxit's Rendition Server and PDF Compressor
Perhaps your database contains archived files numbering in the thousands. Some of these files are from back in the day and are in outdated TIFF format and not full-text searchable. For easy compression and archiving, consider Foxit solutions like Rendition Server or PDF Compressor.
Both programs provide an enterprise-ready solution for seamlessly compressing PDF and PDF/A.  With mixed raster content (MRC) file compression, reduce file size by a ratio up to 100:1 without compromising document quality.
Furthermore, all files are searchable through Optical Character Recognition (OCR). Businesses can also customize the programs to meet enterprise-specific needs by consulting with Foxit Professional Services.
Please contact Foxit for more information about the latest server solutions.