Maintain industry and HIPAA compliance
Electronic Signature Compliance Has Never Been Simpler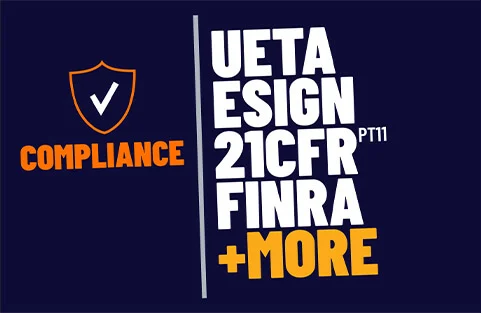 HIPAA Compliant Electronic Signatures
HIPAA compliance is a must for most healthcare organizations, meaning it's essential that digital document and electronic signing usage abides by the privacy laws set forth. Use Foxit eSign to confidently obtain signed patient consent forms, medical releases, privacy agreements, and more.
California Consumer Privacy Act (CCPA) Compliance
Foxit eSign complies with all California Consumer Privacy Act (CCPA) guidance as set forth by the state of California; this means that we will keep you informed about any attempt to collect information on you and your business and clearly outline how this information will be used. Rights to "Opt Out" and "Rights to Access" are also strictly adhered to.
ESIGN and UETA Compliance
All ESIGN and UETA compliance regulations are strictly adhered to by Foxit eSign. We ensure documents are legally binding in accordance with these acts through efforts such as audit trails, a clearly defined document retention policy, certificates of completion for signed documents, and providing methods for demonstrating clear intents to sign.
eIDAS and GDPR Compliance
To ensure legitimacy in legal usage for signed documents in the EU, Foxit eSign conforms to the prerequisites set by Advanced Electronic Signatures (AES) and Qualified Electronic Signatures (QES) as set forth by EU regulations in the European single market. We are also a GDPR-friendly company and enforce GDPR principle rights, including rights to access, rectification, erasure, processing restriction, object processing, data portability, supervisory complaint rights, and consent withdrawals.
21 CFR Part 11 Compliance
For our clients in the pharmaceutical or biotech spaces, Foxit eSign adheres to strict 21 CFR Part 11 compliance. Tools and features are provided to support compliance, such as audit trails, identity verification, timestamps, tamper evidence methods, and completion certificates.
Other Industry Compliance
Utilize tools and features to maintain compliance in popular industries such as finance (FINRA), education (FERPA), and more!