Prepare documents, contracts, forms, templates, and more
Documents ready for signing in minutes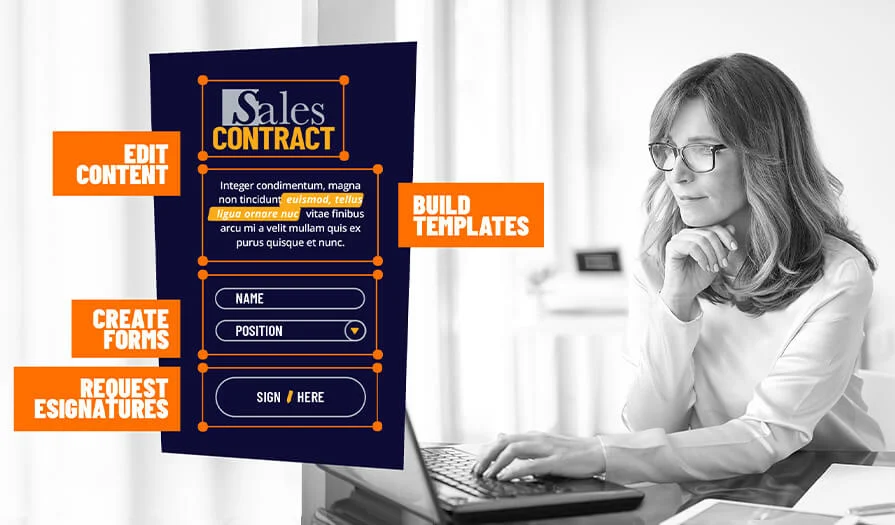 Convert Uploaded Documents
Quickly and easily upload documents for signing in multiple file formats and automatically convert to PDF. Supported file formats include DOC, DOCX, XLSX, XLS, PPT, PPTX, CSV, TXT. RTF, and PNG.
Add Signing and Data Fields
Prepare your forms and documents by adding drag-and-drop signature fields, date fields, data entry fields, and advanced field options such as hyperlinks and accept/decline buttons.
Enable an Easier Document Completion Process
Streamline and consolidate the signing process for your team and for your recipients by incorporating the capability for attaching documents. Additionally, multiple documents needing signature can be included in one folder and sent all at once.
Define Signer Roles and Signing Sequences
Establish signer roles and dictate required fields for completion with a few simple clicks. Have multiple signatories on one document? Easily establish sequences to ensure signing takes place in the correct order.
Customize Colors and Logos
Ensure brand continuity and company recognition with custom branding options, such as incorporating your company's logos onto each document created and sent to your clients.
Create Templates
Do you and your team use the same documents regularly? Save time and simplify the document preparation process for future signing by saving documents as reusable templates in your personal template library. You can also quickly and easily email templates to designated team members.
Simplify with Premade Templates
Looking to further reduce your document prep time? Utilize the extensive Foxit eSign library of premade templates built with your business in mind. Explore our template library filled with commonly used HR forms, business contracts, legal agreements, and more.