Architecture
Foxit's Document Transformation Services are built around a highly scalable architecture that clearly distinguishes between organizational and functional components. System control and management, as well as the responsibility for the external web service, is covered by a Managing Node.
Learn More
The Managing Node accepts web service requests, converts them into appropriate Work Items, and routes these Work Items to available Worker Nodes. The Managing Node collects the results of the individual conversions and returns the result to the calling application, again through the web service. While at least one Managing Node is required, additional Managing Nodes are supported for load balancing or failover.
Worker Nodes are installed on other servers, and they act as the workhorses of the system. As your processing needs grow, more Worker Nodes can be added easily, by simply installing the software on additional servers and setting them to reference the Managing Node. The Managing Node can be configured to either distribute work items evenly across Worker Nodes, or to saturate a target processing capacity on each Worker Node before sending work items to the next one. Thus, having more than one Worker Node can allow for greater processing capacity and/or automatically provide failover support.
Document Transformation Services provides robust multiprocessing capabilities, even on a single Worker Node. Not only can multiple Work Items be processed in parallel, but even multiple pages of a single document can be processed simultaneously on different cores. A processing priority can be assigned to each Work Item to ensure that the most time-sensitive jobs receive the bandwidth they need.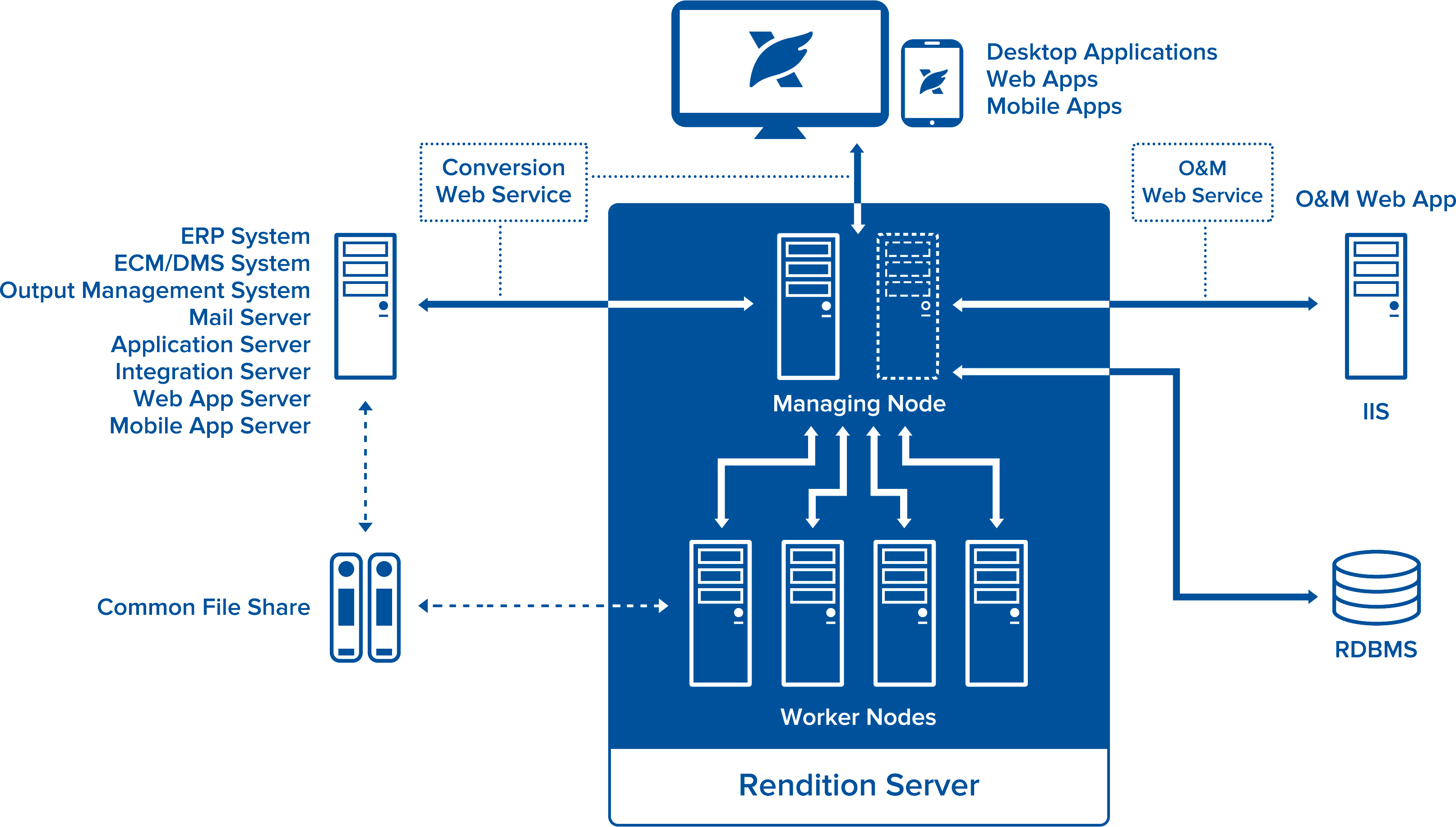 Technical architecture diagram for enterprise PDF conversion platform Rendition Server.
While Document Transformation Services runs on Windows servers, its web service interfaces allow for interaction with clients on any platform. Files can be submitted either as data streams or by reference as URI's, and the system can be configured to process files in Cloud storage as well. Secure transmission of data packets is supported via SSL.
How it Works
Every conversion job begins by sending a request to the conversion web service, specifying the input and output as well as instructions for the set of transformations to be performed. Each set of transformations, known as a Strategy, is based on a selected sequence of stations through which the document passes, known as an Assembly Line. Each station is designed to perform a particular stateless transformation such as image compression, OCR, born-digital conversion, redaction, etc.
In addition to the stations predefined by DTS, custom stations can be written to perform virtually any document transformation you can think of, thereby providing a tremendous amount of flexibility to fit the needs of your workflow.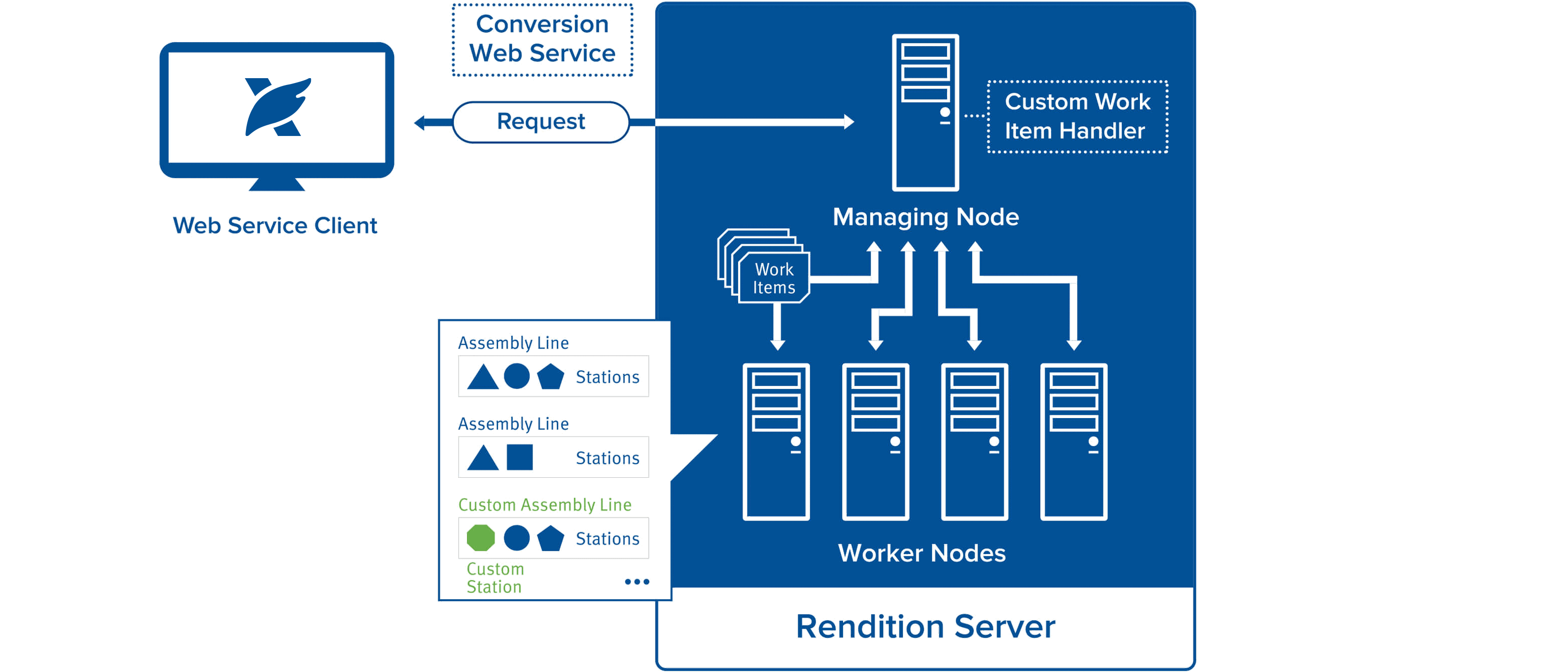 A Worker Node processing Work Items for various types of Assembly Lines.
Licensing
Licensing of Document Transformation Services is defined by both the number of pages per year that can be processed and the number of servers. An entry-level system includes one Managing Node and one Worker Node, with 300,000 pages per year. All cores of a Worker Node are automatically licensed. You can add Worker Nodes or pages to increase throughput rates or capacity, and you can add another Managing Node for failover or load balancing of the main job controller.
The electronic license is installed on the Managing Node and controls all the Worker Nodes. If you add pages, you just need to install the upgrade license in one place for all Worker Nodes to have access to the increased capacity.
Product Specifications
Interfaces
Conversion web service: SOAP + REST/JSON
Administration web service: SOAP
Monitoring web service: SOAP + REST/JSON
Supported Input Formats
TIFF (including TIFF with JPEG compression)
JPEG, BMP, PNG, GIF, PDF
MS Office: Word, Excel, PowerPoint
KINGSOFT WPS Office: Documents, Spreadsheets and Presentations
Open Office: Writer, Calc, Impress
Email: EML, MSG, with attachments in supported formats
ASCII text, HTML
XML with XSLT stylesheet
Adobe PostScript
ZIP and RAR archives
Image Data Processing
Foxit mixed raster content compression technology (MRC layer-based process)
JPEG2000 compression for image layers and JBIG2 compression for black/white content and text
PDF- and PDF/A-compliant
Text Recognition
High-performance thanks to award winning OCR technology from Kofax®
More than 120 languages recognized
Create text searchable PDF and PDF/A files
PDF/A – Embedded Files
Create FeRD-compatible PDF/A-3 files with embedded ZUGFeRD XML and XMP metadata
Compliance
ISO 19005-1-compatible PDF/A-1a and -1b
ISO 19005-2-compatible PDF/A-2a, -2b and -2u
ISO 19005-3-compatible PDF/A-3a, -3b and -3u
TAA Compliance
System Requirements
Supported Operating Systems
Microsoft® Windows® Server 2012 R2, 2016, or 2019
Hardware
Absolute minimum requirements for installation. Requirements for productive operations will be defined on an individual basis.
CPU: Intel/AMD or compatible 64-bit processors, multi-core
RAM: Minimum 4 GB per core
Fast storage for caching and swapping
A standard installation requires 500 MB storage space
Software
Absolute minimum requirements for installation. Requirements for productive operations will be defined on an individual basis.
Microsoft® IIS 7.5 or newer with ASP.NET 4
Microsoft® SQL Server 2008 or newer
Microsoft®.NET Framework 4.7.2 or higher
Microsoft® Office Applications: 2010, 2013, or 2016
Apache OpenOffice 4.x or LibreOffice 6x