Our Clients

Optimize Your Paper and Digital Records
Back file paper scanning may help mitigate the risks and costs associated with physical storage of your documents, but managing a repository full of inaccessible, unsearchable, and unstandardized documents is hardly an efficient system. An unoptimized digital repository can quickly open your organization up to compliance risks, greatly inflated storage costs, and slower document processes. You need a backfile conversion solution that can efficiently batch process large-scale conversion projects and transform your digital document repository into a powerful ally.
---
Get the Job Done, Fast
Optimize your entire repository quickly and accurately with batch document conversion, multi-threading, and touchless processing.
Mitigate Archiving Compliance Risks
Digitally preserve content for the long-term in a lossless, discoverable format by creating accessible, full-text searchable PDF/A assets.
Protect Personal Information
Secure customer PII data with full redaction, encryption, and password security protection for converted PDF documents.
Reduce Storage Costs by Over 50%
Depending on the proportion of scanned images within your digital repository, your savings can be even greater. Some of our customers have seen compression rates reduce image document file sizes by up to 100:1!
More Efficient Document Processes
Find information faster with highly accurate OCR. Download compressed documents in half the time. Reduce manual effort in your document processes to facilitate faster client experiences.
Create More Accessible Documents
Auto-tagging unstructured image documents makes your content accessible for screen readers, an important step toward complying with document accessibility standards.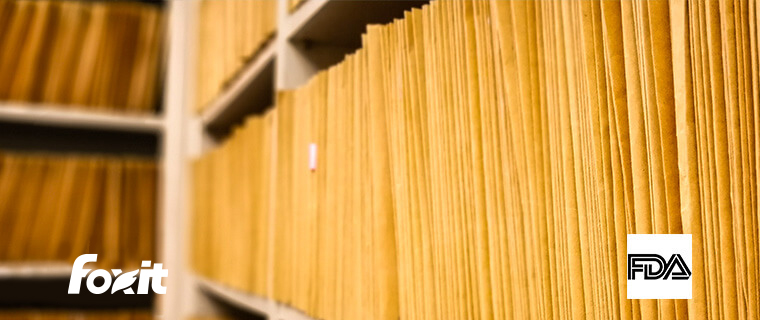 The United States Food and Drug Administration needed a solution to help manage the large volume of unstandardized, unsearchable image documents in its repository. See how Foxit PDF Compressor enabled the FDA to find information in their documents faster, significantly reduce IT costs, and download and access documents faster on mobile devices.
Read the Case Study >>
How Backfile Conversion Creates Faster Document Processes
A chaotic document repository induces more manual processing time and slows down your operations. Slower document processes hinder your ability to provide fast responses to customers, meet deadlines on SLAs, and remain nimble against digital-native competitors. Optimizing the documents in your repository makes them easier to work with to facilitate faster client experiences and position your organization for greater success.
For example, compression creates greater shareability and makes it easier for clients and workers to access documents from a desktop or a mobile device. With Foxit PDF Compressor, black & white image documents can be compressed to 10% size, and color documents to as little as 1% of their original file size. At the same time, creating searchable PDFs with OCR makes information search much faster by enabling keyword search.
For a successful backfile conversion process, choosing a solution that supports automated, high-volume processing is key. Foxit PDF Compressor is a high-throughput solution designed to quickly convert the documents in your repository. It supports batch processing, multi-threading, and unattended processing for rapid, automatic conversion of huge volumes of documents to optimized PDF and PDF/A.
Lower Process Costs with Efficient Digital Documents
Repositories full of documents from scanners, mobile devices, email, and faxes are costly to manage and difficult for employees to navigate. Image documents from scanners have bloated file sizes and the information they contain is not readable by machines. By using OCR to convert scanned documents to searchable and indexable PDF, your organization can replace man-hours spent looking for important data each year with simple, instant keyword search. In addition, compressing the image documents in your repository can reduce server and cloud storage costs by over 50% without compromising image quality.
According to AIIM1, the amount of inbound born-digital content (like emails and Microsoft Office documents) is increasing for 73% of businesses surveyed. Because born-digital files have existing text layers and attributes like metadata and bookmarks, it's important to process them differently than image documents to preserve that data. Unfortunately, many conversion solutions today require additional coding, professional services engagements, or ignore the fact altogether, leading to lost data and increased manual processing costs to address exceptions. Right out of the box, however, Foxit's PDF Compressor auto-detects born-digital files to avoid these added costs and support efficient backfile conversion for mixed content repositories.
With the rise of mixed paper and digital inbound communications, repositories fill up quickly with scanned TIFFs, JPGs, PNGs, emails, Word docs, PDFs, and more. By standardizing these inputs to optimized PDF, your organization can further minimize costs associated with supporting all of those different file readers and editors. Converting your archives to one standard format also makes information search and navigation much quicker and easier for your staff.
Mitigating Compliance Risk with an Optimized Archive
Documents in varied, unstandardized formats present another hidden danger in your repository. Unsearchable scanned image documents can be difficult to locate in a large digital archive, and data can be corrupted or lost if not saved in a stable, long-term format. This can lead to regulatory compliance issues in the financial services industry, problems with accessibility in the public sector, and difficulties for most organizations during auditing.
Converting digital documents to ISO-compliant PDF/A ensures your repository will remain searchable and accessible for years to come. The PDF/A format is designed specifically for stable, secure long-term storage. Foxit solutions support conversion to all PDF/A subtypes, including specific support for more accessible PDF/A documents with advanced auto-tagging on unstructured image documents.
Redaction and document security are also critical components of protecting sensitive information and maintaining compliance with laws protecting PII such as GDPR. Converting image documents and born-digital files to encrypted, password-protected PDFs helps to create a secure repository.
Enterprise Content Spotlight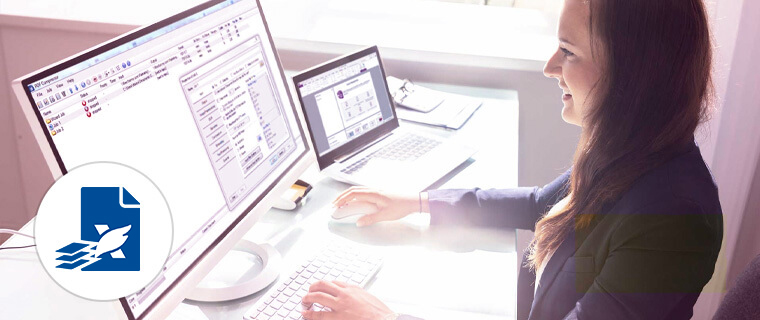 Foxit PDF Compressor
Foxit PDF Compressor is a server solution that provides businesses with automated, high-volume document to PDF conversion, compression, and optimization for both image documents and born-digital files.
Read More >>